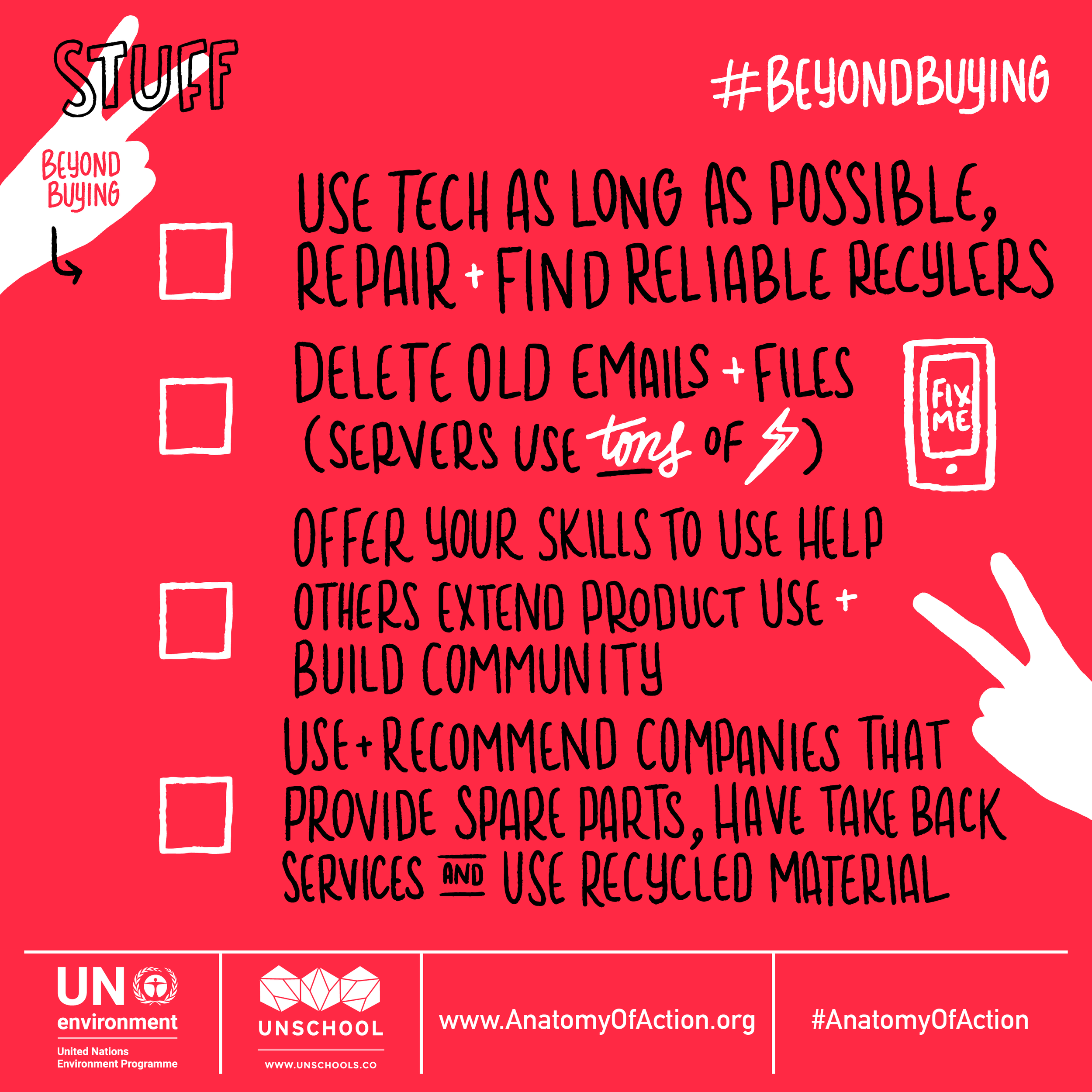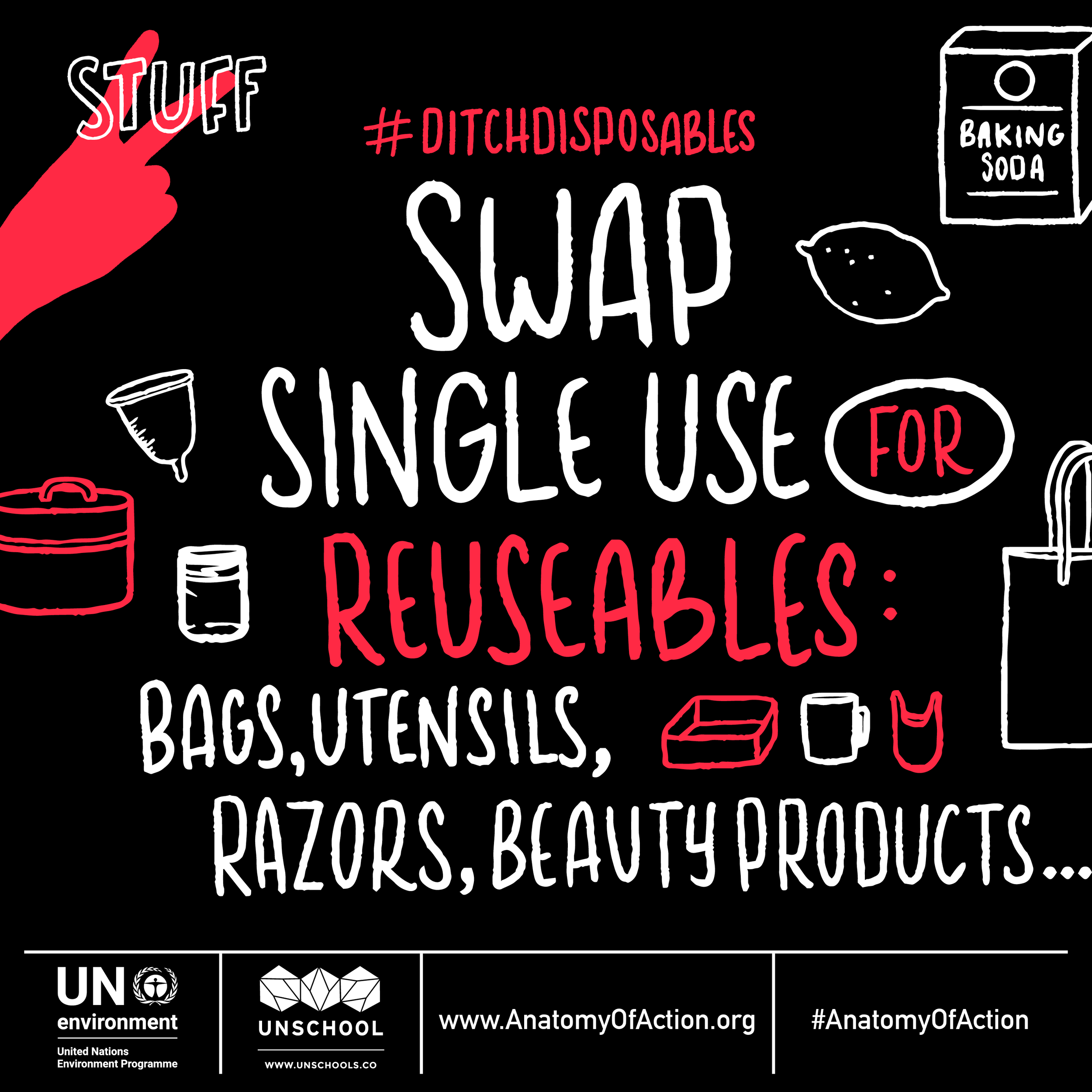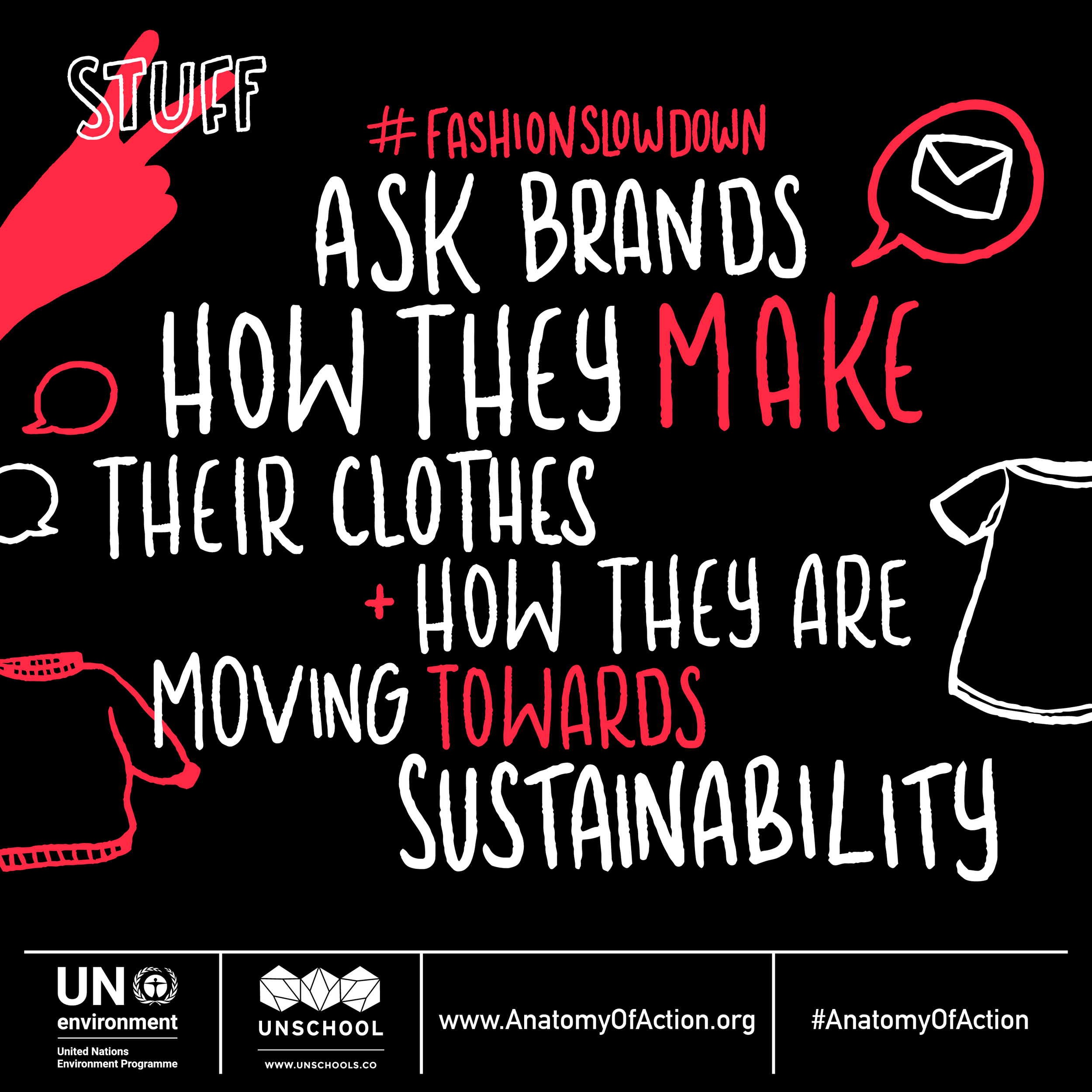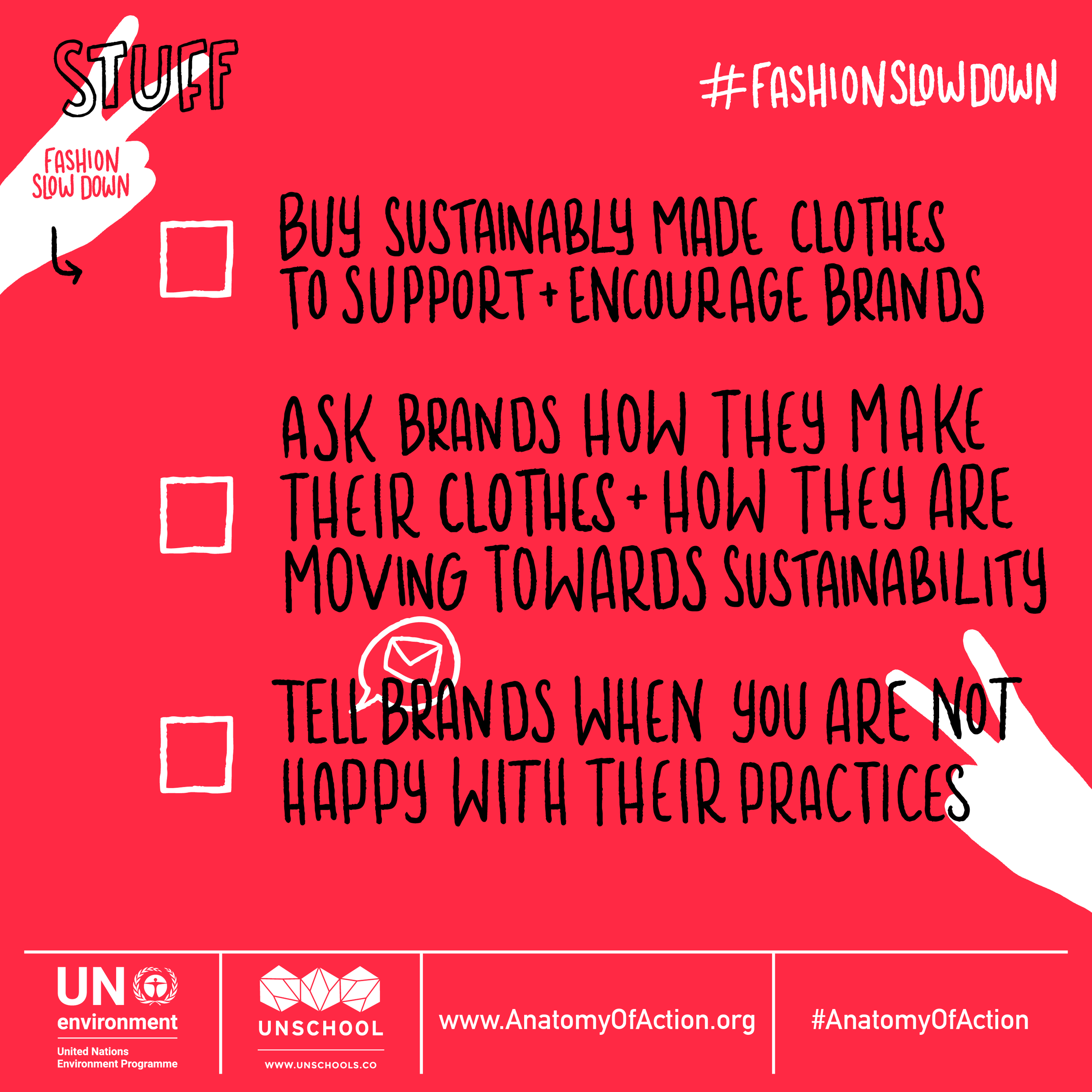 THE 3 KEY ACTIONS
BEYOND BUYING
Consider what you need and buy products that will last longer, be used multiple times, and are intended to be in use for as long as possible before being remanufactured or recycled
FASHION SLOW DOWN
Buy fewer amd better clothes, stay away from fast fashion that mass produces at the cost of environmental and human justice
DITCH DISPOSABLES
Refuse everyday products which cannot be reused
HOW-TO: BEYOND BUYING
Consider what you need and buy products that will last longer, be used multiple times, and are intended to be in use for as long as possible before being remanufactured or recycled
Consider what you really need and what impacts these have on the planet before buying stuff; reduce what you buy

Continue or start sharing and swapping things like appliances, tools, clothes, talents, and services

For new purchases, look into how you can get what you need via a service or a product that lasts longer and has been made sustainably

Find things with extended warranties and that can be repaired, and then make sure you repair things

Buy beautiful second-hand things and find new homes for things you no longer want

For technologies and gadgets, use them longer, repair and donate them, and ensure you find a reliable recycler at the end of their life

Delete old emails and other files stored on the cloud (servers use heaps of energy)

Offer your technical skills and talents to extend product use, help others, and build a sense of community

Recommend and buy from companies that provide spare parts to repair, that offer take-back services, or that use recycled materials in production
WHY IS MOVING BEYOND BUYING SO IMPORTANT?
The circular economy is all about meeting our needs better with less stuff – hence the things we buy and use in our daily lives have more value and last longer, reduce disposability, and maximize material recapture. In some parts of the world, this is already a way of life. While we wait for all producers of goods and services to adopt this new approach, consumers of all walks of life can be more conscious of what they need, what they are buying, and how they value the things that fill our lives. Increasing the usable life by repairing, sharing, reselling, and reducing helps reduce the need for new goods. If you can, invest in goods with longer warranties and design durability, and find companies that offer buyback and repair schemes for their products along with swapping and sharing things you need.
HOW-TO: FASHION SLOW DOWN
Buy fewer and better clothes, stay away from fast fashion that mass produces at the cost of environmental and human justice.
Use your consumer power to buy better clothes and to increase the availability of more sustainable fashion options

Celebrate being unique - buy vintage, redesign old clothes, create a core basic or 'capsule' wardrobe, AND be bold in your fashion choices

Think long-term: buy quality clothes that last and take care of them. Today's new pieces are tomorrow's vintage treasures

Give your clothes a second chance: share, reuse, repair, recycle, sell, and donate high-quality fashion for second- hand use

Ask brands about how best to take care of their clothes, how they produce and source, and how they are committed to sustainability

Let brands know when you are not happy with their practices and help encourage them to move towards sustainable production


WHY is a FASHION SLOW DOWN IS SO IMPORTANT?
Fashion is a hyper-fast industry, and in fact is the second most polluting industry worldwide. It impacts nearly everyone on the planet in some way. We all wear clothes, not only for functionality, but also to express a certain style and identity. The fast fashion phenomenon exacerbates labour conditions and product quality pushed by brands to make inventory on a weekly basis. You can avoid contributing to this by breaking the vicious cycle perpetuated by constantly changing clothes by finding responsible brands that support the betterment of workers and the environment, or by buying second hand. In becoming a conscious and responsible consumer through the power of your decision making, you will help the environment and society in significant ways.
HOW-TO: DITCH DISPOSABLES
Refuse everyday products which cannot be reused
Swap daily disposables such as straws, bags, coffee cups, take-out food containers, forks, razors, and sanitary products for reusable alternatives; you will save money in the long run

Continue or start to buy at bulk food stores and bring your own containers and bags to take products home in

Carry your own vessel for water and hot drinks

Rethink food storage to eliminate plastic baggies and wrap. You can swap to reusable containers and beeswax wraps

Clean greener- from toothpaste to household cleaning products, there are alternative and often cheaper ways of getting things clean, such as baking soda and vinegar

Replace disposable hygiene products with reusable ones, such as swapping pads & tampons for the menstrual cups and moon pads

Consider ways to refill products like cleaning and household liquids in bulk to reduce packaging

Use your consumer power where you shop, eat, and work to voice the change you want to see and reduce disposability from our lives!
WHY DITCHING DISPOSABLES IS SO IMPORTANT?
All over the world, our daily lives are overwhelmed with single-use products and plastics, from packaging to beverage cups and bags. Things that can easily be reusable are now destined for the dump. Disposable products are not just hazardous for the environment but also costly to remove and hard to recycle. By ditching disposables in whatever way you can, you are supporting the global movement to go #zerowaste and sending signals to producers and stores that we don't want plastic in our oceans and littering our streets. From personal beverage containers to shopping in bulk and even making your own cleaning products, there are hundreds of micro actions you can take to support the global trend towards a post disposable future.