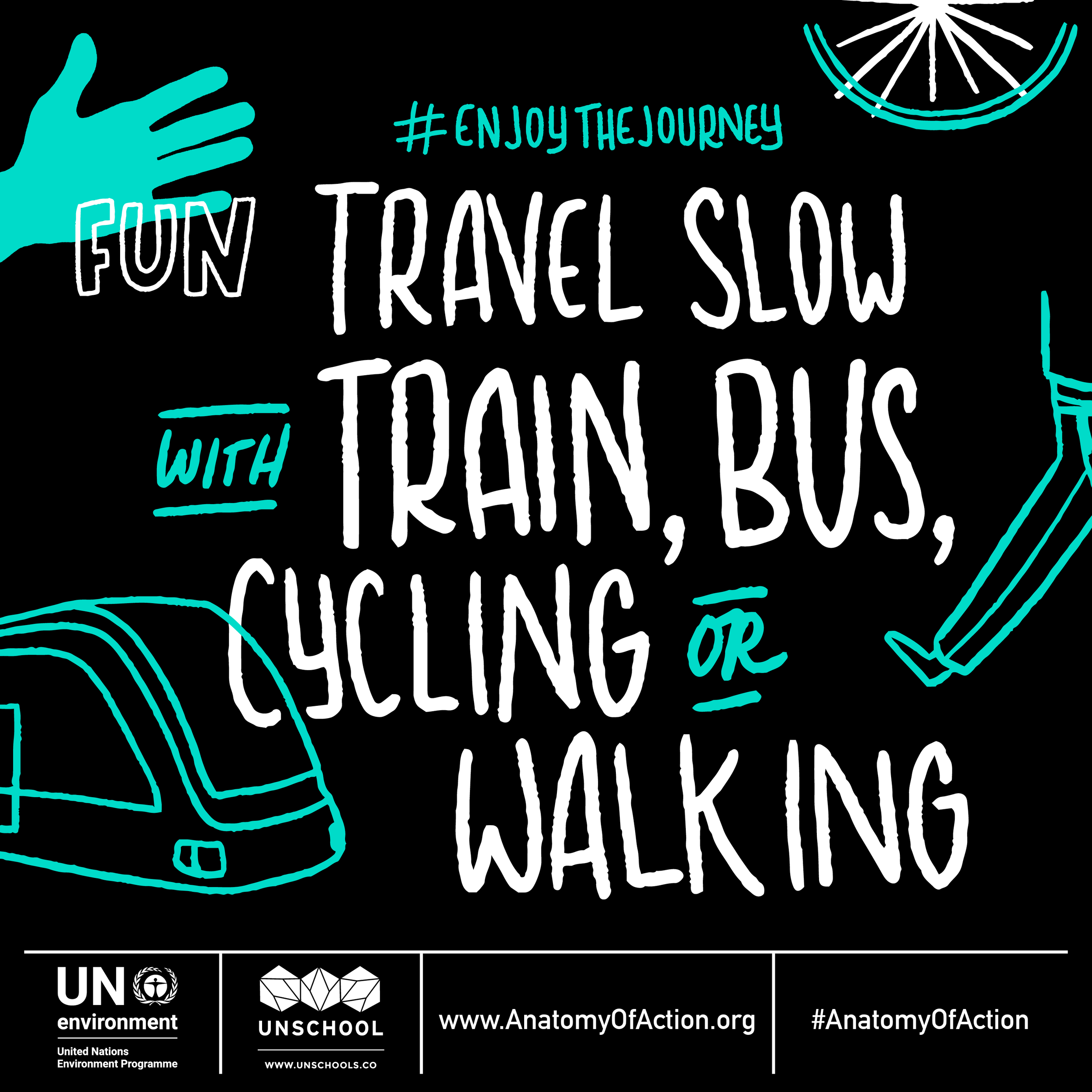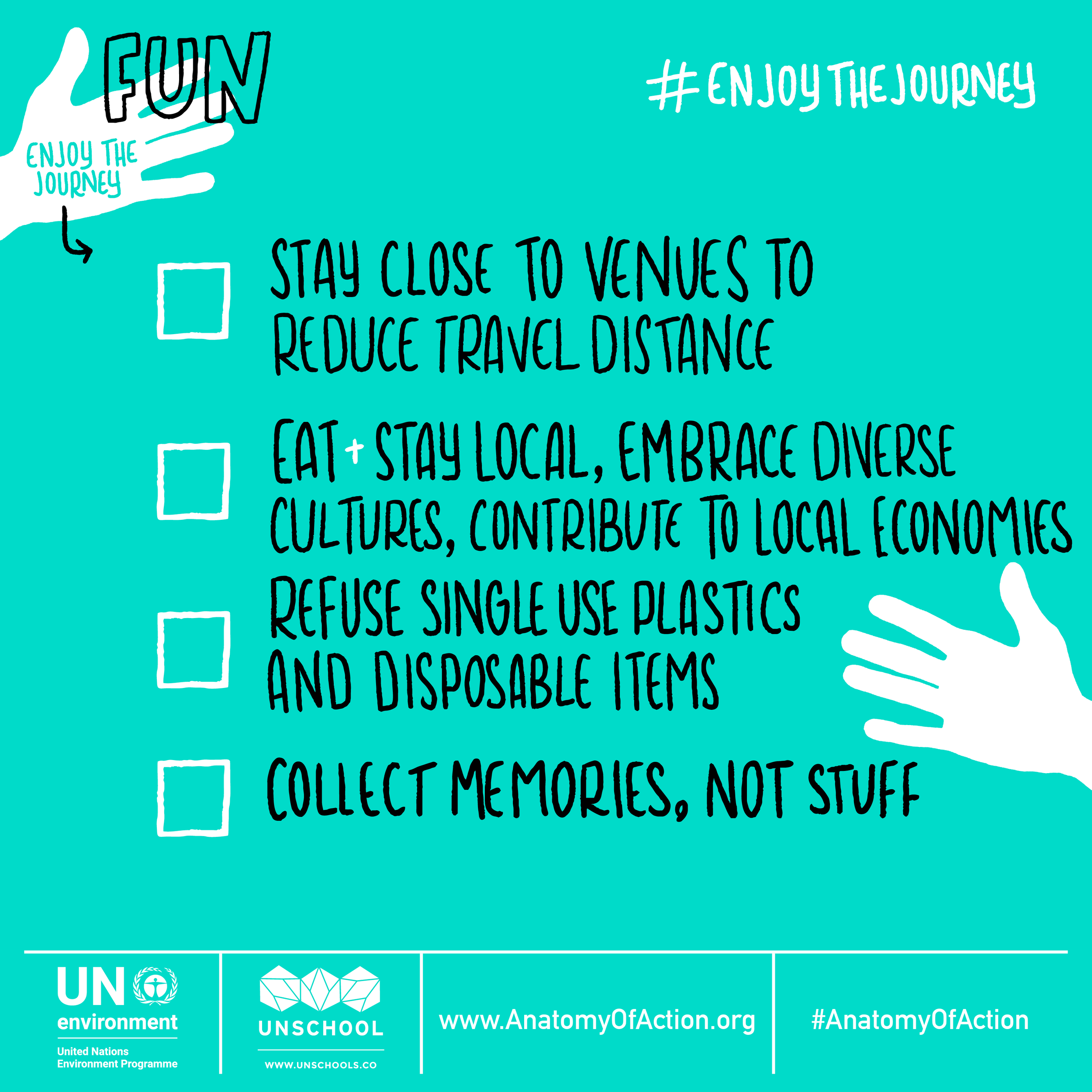 THE 3 KEY ACTIONS
ENJOY THE JOURNEY
Staying local can reduce your carbon footprint, help local economies, and can be more cost effective. When you do go the distance, stay longer and choose better products
STAY CURIOUS
Embrace a life of constant learning, adventure, and curiosity, and keep an open mind
CHOOSE EXPERIENCES
Consider spending more time and resources on the experiences that add value to your life
HOW-TO: ENJOY THE JOURNEY
Staying local can reduce your carbon footprint, help local economies, and can be more cost effective. When you do go the distance, stay longer and choose better products AND SERVICES
Research and ensure your tourist purchases and activities have a positive impact wherever you go

Consider vacations close to home and see the things that other people travel to your community to see

Travel slowly and take time to discover by taking the train/bus or cycling and walking

Visit fewer places but stay longer in each

Take direct flights and consider staying close to venues to reduce travel time and carbon emissions

Experience the real: eat and stay local, embrace diverse cultures, experience what the terrain has to offer (run, bike, hike), and help local economies

Refuse disposable plastics and other single-use items and minimize your visit's impacts

Collect memories from your trip that leave footprints in the sand, not on the planet - be mindful and proactive about the impacts of your fun times

Research and stay in sustainable hotels and accommodation services
WHY IS ENJOYING THE JOURNEY SO IMPORTANT?
Being a conscious and ethical traveler has positive impacts for the communities you are visiting and for your personal well being. When traveling, do your research to ensure you are contributing to the local economy in proactive ways, supporting the enhancement of local culture, and ensuring that your carbon footprint is the lowest it can be. Opting for a vacation near to your home and preferably in nature can be rewarding for your health, relaxation, the local economy, the environment, and of course your wallet! Many emerging economies depend on tourism revenues, small island development states in particular. If you travel for sun and surf, opt to stay longer, eat local, ditch disposables, and be proactive in your footprint.
HOW-TO: STAY CURIOUS
Embrace a life of constant learning, adventure, and curiosity, and keep an open mind
Adopt a lifelong learning approach to keep your mind thirsty and active

Seek out and support new ideas to make the world a better place

Learn from nature and see where it fits in with your life

Discover more about the systems that sustain us - like where your food comes from - and make more informed choices

Choose technologies and apps that make it easier for you to live more sustainably

Foster an open and independent mindset

Be future-focused and stay positive about how to contribute to a better world

Learn new things through formal and informal education
WHY IS STAYING CURIOUS SO IMPORTANT?
Learning, curiosity, discovery, wonderment - whatever you want to call it, life is made more valuable through the addition of new knowledge, ideas, and actions. By embracing a curiosity mindset, you can experience all sorts of lifelong benefits, from more flexibility in work opportunities through to setting a better example for our kids and communities.
HOW-TO: CHOOSE EXPERIENCES
Consider spending more time and resources on the experiences that add value to your life
Engage in experiences and services that add value to your life

Find ways to spend time with people that you care about and make you laugh

Spend more time connecting with nature and natural spaces

Opt for active recreational choices for increased health and well being (sports, games, and outdoor activities)

Find daily ways to relax, and take time out to reduce stress and anxiety

Give yourself (more) digital detox time and embrace analog experiences

Pursue purpose and passions, not possessions

Consider the impact of our recreational activities, and find ways to increase the positive impact
WHY IS CHOOSING EXPERIENCES SO IMPORTANT?
We are a sum of our experiences. Our identity is not defined by our possessions, but is actually an accumulation of the places we've been, lessons we've learned, people we have interacted with, and the experiences we've had (good and bad!). Buying something new may not be a life-changing event, but the experiences we lock into our memories through the daily act of living helps create who we are. There is lots of new science behind the power and importance of spending time in nature and the benefits that an active life has on your longevity and overall well being.